Creative Kitchens Customer Reviews
Read customer reviews and feedback from many happy Aucklanders who have enjoyed their new kitchen designed by Creative Kitchens.
It has been simply wonderful to work with you. The kitchen and laundry have turned out far better than we could have ever imagined and I honestly can say are one of our most favourite parts of the house.
Kind regards,
Bianka and Rob
A HUGE thank you to Pamela and her team at Creative Kitchens for turning our kitchen into perfection for us. From the beginning, Pamela was professional, covered all the finer detail and worked with us along the way to ensure a smooth process. We are very happy.
Would highly recommend Creative Kitchens and we will surely use them again in future.
Aleesha Nana
I was very daunted by my kitchen reno project when I started to research all the different products and options out there. The area itself is a difficult hexagonal shape which created a few challenges. I am glad I went to Creative Kitchens.
A big thank you to Pamela, who led me through the process and asked and answered many questions along the way. Pamela's patience and experience are invaluable. Thank you also to the CK team who completed very quickly and for all the excellent communication along the way. I am delighted with the result.
Kind regards,
Linda Faulding
The kitchen is nearly finished, it's looking good but still some tiling left to do. We're all loving the kitchen, thank you for all your help. You have been so patient answering all my questions and very accommodating with the changes we made.
I must mention the amazing job that Matt did. He is very efficient and we saw the passion and pride he has for what he does. The benchtop installers were so amazed by how the cabinets are level and all corners are square. These made their jobs really easy. They said it only happens when the installer is really good. He's doing a great job for you guys!
We have the kitchen we love but more than that we met some wonderful people. It has been an amazing experience.
Vanessa and Ramon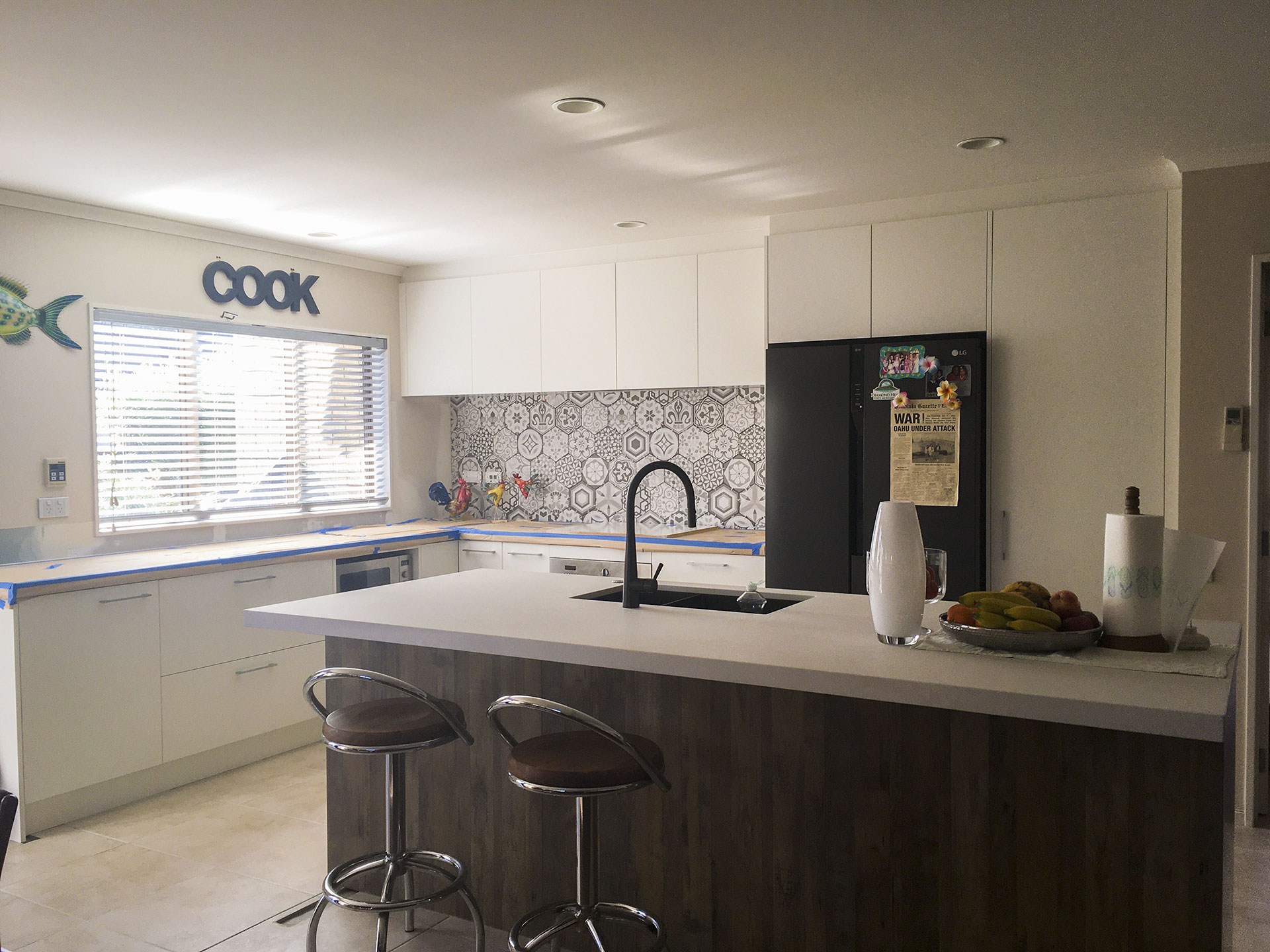 Just wanted to send a quick note to say how awesome you and your team have been with the planning, making and installation of the pantry. It looks incredible in and couldn't have wanted anything better. The lovely guy who came to install it, had to contend with an uneven wall of 10 degrees, and therefore all sorts of challenges with getting the final end piece to sit properly. He would have been here for 2 1/2 – 3 hours and worked really hard. Thanks so much once again.
Janelle Brooks
Ernie at Creative Kitchens is highly knowledgeable, capable and confident in his ability to deliver quality results. He was always accommodating, friendly, efficient and easy to communicate with – no matter how many questions I had or changes I proposed, he always made time to discuss them. Ernie's superior knowledge means he offers practical options and his expertise means he always met deadlines. We love our new kitchen and thrilled with Creative Kitchen's overall service that includes a new laundry and bathroom cabinetry. We highly recommend Ernie and the team at Creative Kitchens to anyone considering a new kitchen, laundry and/or cabinetry.
Karla Hamilton
As an architect working with Creative Kitchens for some time now, they provide an awesome service from a top-notch company, not only for kitchens but for bathroom vanities and cupboards as well. The quality of their finished product is amazing. The full service you get from initial consultation and design, through to installation is really first class. The boys who take out old kitchens and put new ones in are excellent – everything is spotless when they leave. I cannot recommend Creative Kitchens enough. Well done and thank you.
George Czerniak
First new kitchen I've ever had done. Ernie and the team were fantastic, nothing was too much trouble, Ernie's patience was second to none! Love it, love it, love it.
Would highly recommend Creative Kitchens.
Margaret & Shay Power
Creative Kitchens have been awesome to deal with, I have recently completed my second kitchen with them and it looks amazing. The sales staff have listened to my needs, offered sound advise and created a kitchen with wow factor.
They kept me informed during the process, were available to answer my questions whenever I called, and both kitchens were delivered on time and within the budget. Plus, all the little things that the sales staff thought about, made the difference to my kitchen.
I would have no hesitation in recommending them to anyone looking to install a new kitchen.
Dee Sills
We have always found the team at Creative Kitchens to be solution and customer focused (we have had 2 kitchens, 2 laundries & a gorgeous bespoke ensuite vanity made by them). Nothing was too much bother for Dawn-Lee and we (I) know I have high expectations! Have and will continue to recommend them.
Megan King
Great company to deal with, very professional, top quality workmanship and handy location. Fast turnaround from design to quote to production. Pam and Dawn-Lee were awesome to deal with. Wouldn't go anywhere else!
Mark Beban
The minute I walked into the showroom and met with Jordan their designer I knew immediately that we would get a kitchen with the wow factor. I have not been disappointed, Jordan came up with an amazing design and was encouraging and patient as we fine-tuned it. The kitchen is a work of art, but extremely practical. Installation went smoothly and we are a week away from moving in and I can't wait.
At all times through the process which took a while, Jordan never complained and worked with us, always positive even when there were delays. I have no hesitation in highly recommending this company, you will get a kitchen that is way beyond your expectations.
Darryl Lynn
We have used Creative Kitchens to design, build and install four of our kitchens in various properties over the last 8 years. Every time has been simple, stress-free and easy from start to finish. Our designer even met me independently to help me choose bench top options with another supplier which I greatly appreciated. Nothing was too hard if changes were made. I will use them again without a doubt.
Sioux Macdonald
We could not be more pleased with the outcome of our new kitchen. Pamela Marriott worked meticulously through our design ideas and worked hard to meet our budget constraints. The owner and his crew were very professional and skilled. The resulting kitchen looks fantastic and we are constantly getting compliments on how sympathetic the design is to the era of our house. We would highly recommend Creative Kitchens to anyone undertaking a kitchen renovation.
S&L Paton, Mt Eden
Thank you Ernie, Matt (installer), Kathryn from Summer Hills Deign and George. We are totally in love with our kitchen. It is designed to perfection, installed with minimal disruption and the care and attention to detail is absolutely outstanding.
For everything to go so smoothly in an old villa where no wall is straight and the floor uneven, is a credit to the planning from those involved. I cannot recommend Creative Kitchens highly enough. We are absolutely delighted with our new, modern kitchen. It has transformed the whole house.
Thank you all,
Sue Waugh, Parnell
Creative Kitchens have been wonderful to deal with. The sales staff had a good knowledge of their products. I would like to say a special thanks you to Pamela. She was exceptionally helpful from the initial design and layout to the final installation. All our needs and requests were handled with efficiency and professionalism and the installation was completed in the timeframe advised. We are extremely happy with our new kitchen.
Jeroo Nagarwala
Kathryn Downer,
Summer Hills Design
I just want to say a big thank you as yet again another top quality kitchen, installed, on time as always and looking fantastic!
As an Interior Designer and Project Manager it gives me great pleasure and is most rewarding to see my clients so delighted with their new kitchens.
There are many 'cowboys' out there that promise everything, create costly delays and deliver a shabby product however Ernie, you and the team are always so efficient, and a pleasure in the industry to deal with, nothing seems to be too much trouble.
Without question, I look forward to many more kitchens and bathrooms from Creative Kitchens with great confidence and the surety of quality.
Thank you again.
Kathryn Downer,
Summer Hills Design
I just wanted to say a huge THANK YOU! I am absolutely loving our kitchen design. I so often say to Omar (while I'm washing a pot, changing a bin liner or wiping down the bench top etc) that we were so blessed to have found you to create our amazing kitchen! I still remember so many of our conversations so vividly, when you advised us on some of our choices! Thank you very much.
Warm regards
Raeesa Dada
Been meaning to contact you to say a big thank you. Kitchen is great. Cabinet colour perfect and handles a big win. Richard has done an outstanding job of floors. Gonna be very hard to leave with it all looking so good. But looking forward to the stage two when we return!! Thanks for making it all so easy and being so patient and calm through all the steps.
Elle Byrne – St Heliers
Thank you for designing our lovely kitchen – we are most definitely pleased with the final result, especially now the floor has been sanded and lightened to complement the new look kitchen. When passing you must call in to see how it looks after your hard work. Great job.
Regards,
Jill O'Donnell – St Heliers
Thank you for your service and providing us with a lovely kitchen. Surely the entire house is a transformation. The colours of the kitchen looked amazing after installing handles. Tiny thing made a huge difference. The kitchen and the flooring are the best jobs. We are looking forward to move back. Once again, thank you and it was a pleasure to work with you.
Kind regards
Rubia – Mt Roskill
A warm thank you Dawn-Lee, for your professional efficiency and expertise, your advice and guidance in getting me what I needed and not necessarily what I wanted, for being able to look into my head at times without it getting lost in translation and for delivering a lovely kitchen on time and to budget.
Deep gratitude to Ernie who went above and beyond the realms of kitchen design and cabinetry manufacture, to help me out when things got tough!
A big shout out and true appreciation to Matt, the eternal perfectionist and skilled craftsman, always ready and willing to please with a motto – The Customer's wish is his command!
Immense applause for Adam's excellence in fixing the fridge cavity problem and for his ingenuity in solving a corner cabinet issue with unsightly water pipes running through – not only an eye sore but also a worry that I could potentially have a flood if sharp utensils pierced through those naked water pipes.
I am truly appreciative of the kind, helpful, warm and efficient experience afforded to me by Creative Kitchens.
Once again, thank you to everyone, the visible and invisible staff at Creative Kitchens with best wishes for continued success in the years ahead!
Valerie Sequeira Kamath
Just a quick note to say that once again Creative Kitchens were a pleasure to deal with. From our very first phone call and all the way though, you were incredibly helpful. Your installers were punctual, polite and did a great job. Safe to say, we're very happy with the end result – the range-hood is great (especially after having a big hole there for the last six months!) and the new cabinet is just what we wanted – also great job on all the colour matching.
Many thanks to you all for an excellent job 🙂
Kind regards,
Dianne
It's now 5.45pm – Gunther is still going, he's just about finished. It looks really really beautiful (I have to renovate the rest of my entire house now to match!)
I just wanted to write to say thank you for sending such an amazing amazing installer – he hasn't taken a single break all day and has been awake since 4.45am. He's a perfectionist, but he works really fast – I've never seen anything like it. I've never met a carpenter (or any tradesperson) who could do what he did today and still maintain a positive attitude – I so wish we had someone on the island like him!
He even started switching all the drawer runners so he could switch the hinges, but then I went out and saw what he was doing and told him not to worry (I did mention earlier in the day not to worry about it because it really made sense the way you did it (so the door doesn't bang the fridge), but I wasn't clear or he didn't hear me) so then he had to go and put the runners back where they started and he didn't even get grumpy about it (most tradesmen I know would have thrown a wobbly).
Basically this is a big thank you email for having such an impressive team, I'm enormously grateful and thrilled with my lovely new kitchen so far!
Thank you again.
Alison Hare – Waiheke
"We are very pleased with our newly renovated kitchen.  Ernie expanded on our ideas and improved the storage and working area available in quite a restricted space. His professionalism, knowledge and can-do attitude made planning the kitchen a pleasure and prompt attention to all aspects of the procedure ensured the job went smoothly.
Thank you to all the Creative Kitchens team. We would be happy to use you again if the situation arose."
Anne & Trevor
"It's the gem of our reno, our amazing new kitchen. Our kitchen/family room has always been the heart of our home and when friends and family drop around for a cuppa, or come for dinner, it's the room everyone congregates in. Everyone loves the new kitchen and can't believe the transformation!
A big thank you to you and the team for a quality job well done and especially thanks for making the whole process easy and painless. Your design expertise was appreciated Dawn-Lee; particularly as we'd never done this before. Everything is positioned perfectly. We also really appreciated the no-questions-asked remedial work on the damaged pantry door. Once again an easy and painless experience. Top service and top people from the showroom to the factory floor.
We've already recommended Creative Kitchens to friends of ours in Howick that are starting down the reno track. No doubt you'll see them soon."
Steve and Mel Johnson
Michelle enjoyed stress-free renovating with Creative Kitchens
"Whoever said that building or renovating your home is a stressful process clearly hasn't worked with Ernie and his team at Creative Kitchens! My friends don't believe me when I tell them that our kitchen was designed and installed within the exact timeframes that we agreed right at the start of the project.
They don't believe me when I say that every contractor and sub-contractor turned up at precisely the time they said they would and completed their part of the job quickly and efficiently, with no hidden or unexpected costs. But it's absolutely true. If ever I had a question or if I something wasn't quite how I expected it to be, Ernie would immediately work through my questions or concerns until he was sure I was completely happy. Creative Kitchens is one of those rare companies that marry highly skilled and experienced tradespeople and subcontractors with genuinely great customer service.
While Ernie and the team have been creating kitchens for years, they understand and appreciate that you, as their customer, will probably only ever do a renovation once or twice. So they treat your job as if it is the only one they will ever do too! Far from being a stressful experience, our kitchen renovation was an exciting and wonderful journey – made so by the excellent service provided by Creative Kitchens."
Cheers
Michelle
Ross and Caroline – Bucklands Beach
"I love the profile on our kitchen on your website – it looks great. Thank you so much for our fabulous kitchen, we are thrilled with it and we have received many complements. Naturally, we are referring people to Creative Kitchens if they are looking to update or create a new kitchen.
It has been a pleasure working with you and the Team at Creative Kitchens. Please pass on our appreciation and thanks to your team for their hard work in building our dream kitchen."
Ross & Caroline
Mike and Lucy – Shelly Park
"Ernie's reliability and creativity are what sold it for us. Throughout the kitchen design and installation process, he kept us informed. I wouldn't hesitate to recommend Creative Kitchens to anyone and would certainly use their services again."
Sue and Bryce – Farm Cove
"Ernie was proactive in getting things done and nothing was too big a problem for him. We enjoyed working with Ernie so much, we've got him working on our bathroom cabinetry now too!"
Simon and Nikki – Mount Eden
When Simon and Nikki decided it was time to upgrade the kitchen of their Mount Eden bungalow, first on their list of kitchen design specialists was Creative Kitchens. Having already heard about the team at Creative Kitchens from friends who had used their services, Simon and Nikki were not disappointed. From start to finish – conception, design, manufacture and install – the team at Creative Kitchens kept them in the loop at all times.
"Our kitchen was completely refurbished bringing our bungalow up to date and adding a contemporary element to our home", says Simon. "And we couldn't be happier with the finished product. Working with Creative Kitchens was simply fantastic and so easy. Their expertise and professionalism ensured our dream kitchen is now a reality."
Get in touch with Creative Kitchens today and let us help design and build your dream kitchen.
Simon and Nikki
Peter and Carol – Dannemora
Peter and Carol – Dannemora
Hi Noel, Carol and I are ever so grateful to now have a beautiful kitchen top. We wanted to deal with Creative Kitchens if our early discussions stacked up. At our first meeting you quickly interpreted what we wanted and why.
The Creative Kitchen employees and subcontractors were great to work with. The finished product exceeded our high expectations. Thank you Noel for project managing this job from quotation to turn key.
Peter & Carol Scott
We recently had a new kitchen designed and installed by Creative Kitchens. Their attention to detail was impeccable and both Jordan (we loved having Jordan as our kitchen designer!) and Ernie were a delight to deal with. Although their opinions were put forward they were always open for discussion and change without any hesitation. I would thoroughly recommend them as a "first stop" for a new kitchen.
Sue and Ian
Lyn and Jon – Highland Park
Jon and I would like to thank you for the great job you did refitting our kitchen. It was good to work with such a creative designer and professional and reliable firm.
From the initial consultation and design to the completed kitchen everything was completed within the time frame. This included a plumber Keith, the bench top, and the glass splash back installation.
Brad, who installed the kitchen, did a great job. He was skilled, reliable, and extremely helpful.
Throughout the whole process we could not have asked for more – your service was excellent and we would highly recommend Creative Kitchens.
We are thrilled with our new kitchen.
Lyn and Jon
Dennis and Heather – Beachlands
Heather and I thank you for the excellent work manufacturing and installing our new kitchen.
From the initial design you worked on with Heather and your follow up throughout the project has been excellent. Add to this the great support provided by Ernie and Mark in the office, Brad on the install and Shane in the factory, it was a pleasure doing business with such a professional company.
We have already recommended your company to two friends of ours who are looking at replacing their existing kitchens. Should you have any clients who would like a reference regarding the quality and service your company provides we would be happy to receive their calls.
Dennis and Heather
Once again we are delighted with our new kitchen. I say "again" because this is the second one you have designed and fitted for us. As before, all your work is a credit to your craftsmen and fitters. Thank you for your attention to every detail.
Peter and Pam